For Clarissa Caposino, West Hills College Coalinga has been a "beacon" toward a career in healthcare. Clarissa recently graduated in May 2016 with an associate's degree in Liberal Arts: Math and Science and plans on working toward becoming first a nurse and then eventually, a doctor.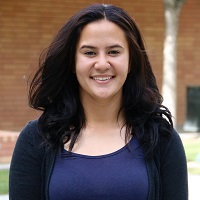 A graduate of Coalinga High School with the Class of 2014, Clarissa originally wanted to attend Fresno State but decided that West Hills College, with its attentive faculty and many student activities and President's Scholars Program, would be a better fit.
"Besides the fact that thanks to the scholarship, it's fiscally responsible to go to West Hills, it's brought a lot of people into my life," she said. "The President's Scholars program has helped me tremendously." Clarissa has been a stellar student. She is a member of Phi Theta Kappa honor society, was the president of the Associated Student Body and has been involved in softball and volleyball. She was the graduation speaker.
Clarissa also has a history with West Hills: she's been attending West Hills in one way or another since 2008, when she was in the 6th grade.
Learn More About Scholarships